iBar, the Interactive Practice Bar


Included with PBSO's certified bartender course, iBar creates a realistic, online practice bar you can use at home! It is the only program designed to replace a traditional bartending school practice bar. iBar is compatible with any computer that runs Adobe's free Flash Player, so there is nothing to download or install. Best of all, there are no additional fees to use it when you enroll in our bartender training course!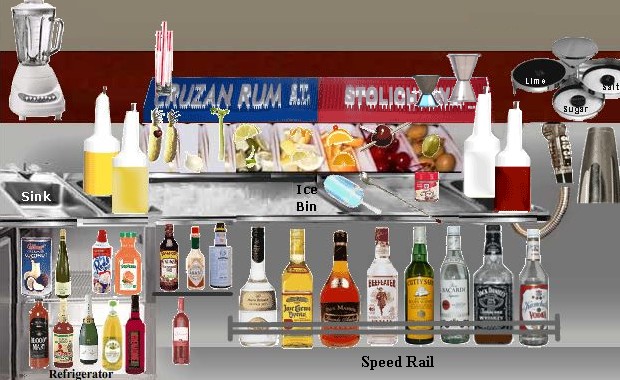 Features that Make iBar a Great Training Tool
iBar uses images of authentic liquor bottles and equipment as found in a real bar. Every item can be picked-up, moved, turned and poured, etc.
The back bar is set up just like a real bar, with the premium alcohols set up on the shelf. That is where the term "top shelf" comes from.
Lower priced alcohol is along the front of the bar, called the speed rail, or just "rail", so a bartender can choose his alcohol quickly.
The rail is set up with a system, so you can quickly find the bottle, similar to a real bar.
Refrigerated items go in either the ice bin compartments or in the refrigerator. You will learn which items must be chilled, versus items that can set out.
The soda gun operation is similar to bar usage.
Shaking and straining drinks is completed using the same methodology as a real bar.
The ice bin is realistic, not just a sink with ice in it (a sink with ice is against food safety regulations).
Allows jigger pouring, which is required by some bar owners, and free pouring skills (timed pours).

A Few Things You Can Do with iBar
iBar allows you to interact with all the equipment behind the bar. Chill your juice bottles and mixes in the refrigerator... Add ice, straws, and garnishes to drinks... Use the blender to prepare frozen specialties... Use the rail gun to pour soda, juice, or other liquids... Pick-up the shaker and mix ingredients... Make a perfectly-timed free pour monitored by the computer... Select the right glassware based on the drink... Complete drink tests assigned by the computer... View all your stats, correct and incorrect drinks!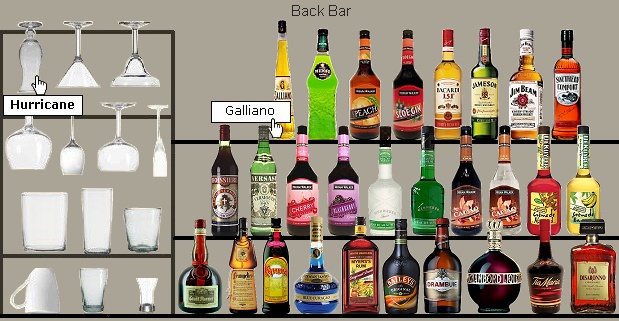 Advantages Over Bartending School Bars
iBar is a realistic bar simulator containing all the typical equipment.
Bartending schools try to save money by building low-cost bars that usually lack expensive ice bins, stainless steel bar sinks, and other features.
Your iBar can have every type of glass.
Breakage and high overhead prevent bartending schools from stocking the more expensive glasses. For example, schools have students make margaritas in a bucket glass. Seldom do they have coffee mugs, nevermind wine glasses.
You can use iBar to improve your drink-making skills at any time. At bartending schools, your time behind their practice bar ends when class is over. iBar allows you to get back behind the bar whenever you need.