Home
PBSO Liquor Knowledge
Learn about different brands of liquor / How to "upsell" to customers
Enhance your bartending knowledge by learning specific and detailed information about a variety of liquors and spirits that are served in today's bars and restaurants!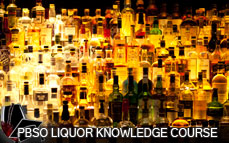 The best bartenders understand the different brands of liquor in their bar and know how to "upsell" to their customers.
This 40-hour course will help build your product knowledge which will make you a better bartender. Increase your bottom line by serving top-shelf drinks that customers will enjoy and will gladly pay top money for.
Includes course certificate and student support.
Course Number: PS103A
Fees: $24
Special 50% discount applies when you purchase more than one specialty course or add it to bartender certification!
Who Should Take The Liquor Knowledge Course
There are two separate issues to being a good bartender. One is customer service and the other is product knowledge. You could be the best server in the world, but you will never become a master bartender without product knowledge. Good bartenders know that product knowledge is the difference between serving beer for a few dollars a night in tips versus serving top-shelf drinks where customers pay top money and "rely on you" for that special drink.
Keep Customers Coming Back!
Years ago, bartenders made money on volume, whether it was a big bar or a little bar, customers tended to drink larger quantities. Now that drunk driving arrests are much more prevalent, bartenders must be careful not to over serve. To make money today, a bartender must have a large number of customers that come back often and have a drink or two. As a bartender you have to offer customers something to entice them to come back. Product knowledge gives you the ability to recognize what customers like and recommend the best drinks that will keep them coming back.
How long will the course take?
You will also use interactive flashcards to practice the concepts from each lesson. This course normally takes 40 - 50 hours of lessons and flashcards. But the key to your success depends on you. There is no substitute for practice. Alcohol knowledge takes time to learn, but learning it will not only make you a better bartender, it will increase the level of respect you receive from your customers and co-workers. This will ultimately allow you to work wherever, whenever you choose and to always be successful. At the very least, learning the techniques from this course will help you increase your current bottom line and help you bring home more money.




Click the

add to cart

button below and proceed to the checkout to get signed up. You will be emailed a username/password to login and begin.




---
PBSO Liquor Knowledge is also available through the following offers: